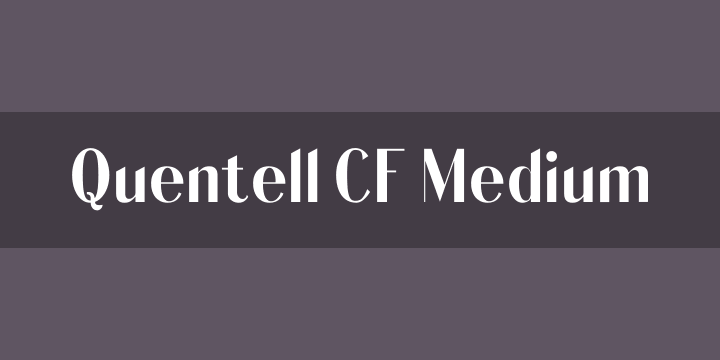 Chuck's Fonts License v1.00
This license can also be found at this permalink: https://www.fontsquirrel.com/license/quentell-cf
By using or installing this font data, you (or you on behalf of your employer) agree to be bound by the terms of this Agreement. This Agreement constitutes the complete agreement between you and Chuck's Fonts.
YOU MAY:
-Send a copy of any Chuck's Fonts font data along with your documents to a commercial printer or other service bureau to enable the editing or printing of your document.
-Use this font data to embed fonts within PostScript files or PDF files for distribution, viewing, and imaging to third parties.
-Use this font for personal projects or for projects for which you are paid, including, but not limited to, artwork, logotypes, personalized apparel, word art and web graphics.
YOU MAY NOT:
-Modify, adapt, translate, reverse engineer, decompile, disassemble or create derivative works based on the Chuck's Fonts font data without Chuck's Fonts's prior written consent.
-Sell this font data AS FONT DATA to a third party under any circumstances including, but not limited to, rubber-stamp alphabets, die-cut alphabets, rub-on alphabets, or digitized fonts for embroidery.
CHUCK'S FONTS SHALL NOT BE LIABLE FOR ANY DIRECT, INDIRECT, CONSEQUENTIAL OR INCIDENTAL DAMAGES ARISING OUT OF THE USE OF OR INABILITY TO USE THE CHUCK'S FONTS FONT DATA.
Fonts

Quentell CF Medium | 378 Glyphs

Quentell CF SemiBold | 377 Glyphs

Quentell CF Bold | 377 Glyphs
Font Information
QUENTELL is my revival — completely redrawn — of "QUENTELL," designed by William P. Quentell in 1895 for the American Type Founders Co. I found it in the American Line Type Book (ATF, 1906). It appears to be in the public domain. The original QUENTELL became the basis of Taylor Gothic (1897). Taylor Gothic was morphed in Globe Gothic by Morris Fuller Benton (1905) for the ATF. A cursory perusal will easily reveal their similarities.
QUENTELL is a bold serif typeface in three weights: Medium, Semibold, and Bold. Because it uses thick and thin stems, it could be used in Art Deco-inspired designs (cf. Ludlow typefaces). QUENTELL would work in "vintage modern" design as well. In short, QUENTELL is at once formal and informal at the same time, making it a flexible tool for everything from advertising to posters to logos. Since QUENTELL was designed as an advertising typeface, I would not recommend it for continuous text; it's too dark and idiosyncratic.