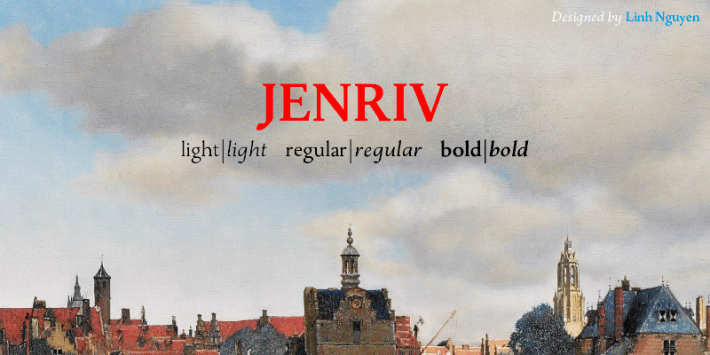 Fonts

Jenriv Titling Light | 415 Glyphs

Jenriv Titling Light Italic | 415 Glyphs

Jenriv Titling Regular | 415 Glyphs

Jenriv Titling Italic | 415 Glyphs

Jenriv Titling Bold | 415 Glyphs

Jenriv Titling Bold Italic | 415 Glyphs
Gallery
Font Information
Inspired by designs of early Renaissance, Jenriv brings out a sedate atmosphere and generous inner spaces.
The design was started by a disputable idea of mixing straightforward strokes and curves, which results in kind of masculine figures but calm and humble. It reminds some archaic air but a simplified one.
Jenriv embraces text flows, multiple languages, and various styles, also with common OpenType features. It is well adapted to a wide range of applications, from medium body text to large headline, or logotype.
This font is the Titling version, which contains all-caps letters. It also supports extended Latin languages, advanced symbols.
For lowercase, small caps and Opentype features, please purchase the full version.