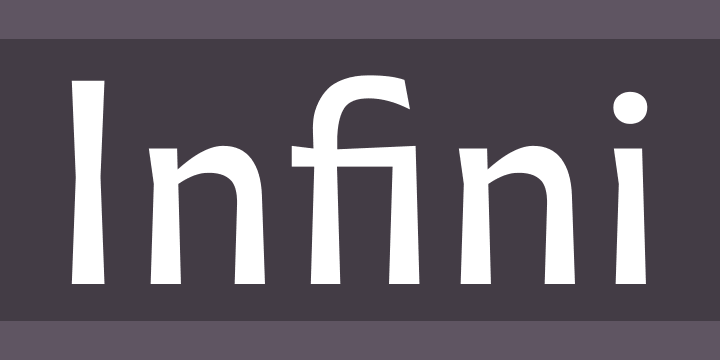 Creative Commons Attribution-No Derivative Works v3.00
This license can also be found at this permalink: https://www.fontsquirrel.com/license/infini
Creative Commons Attribution-No Derivative Works 3.0 Unported
(http://creativecommons.org/licenses/by-nd/3.0/)
You are free:
to Share — to copy, distribute and transmit the work
Under the following conditions:
Attribution. You must attribute the work in the manner specified by the author or licensor (but not in any way that suggests that they endorse you or your use of the work).
No Derivative Works. You may not alter, transform, or build upon this work.
For any reuse or distribution, you must make clear to others the license terms of this work. The best way to do this is with a link to this web page.
Any of the above conditions can be waived if you get permission from the copyright holder.
Nothing in this license impairs or restricts the author's moral rights.
---
Notes from Fontsquirrel about the heritage of this font:
Webfont Kit
The license for this font is the SIL OFL license. This license does not allow us to redistribute derivative versions of the font without wholesale name changes inside and out of the font. Until we figure out a reasonable method of delivering these to you and complying with the license, you will have to use the Webfont Generator yourself on these, renaming the fonts appropriately.
If you are the designer of this font, and this was an unintended consequence of using the OFL license, contact us and give us permission to allow webfont conversions. Thanks!
Fonts

Infini Regular | 743 Glyphs

Infini Italic | 690 Glyphs

Infini Bold | 715 Glyphs

Infini Picto | 31 Glyphs
Font Information