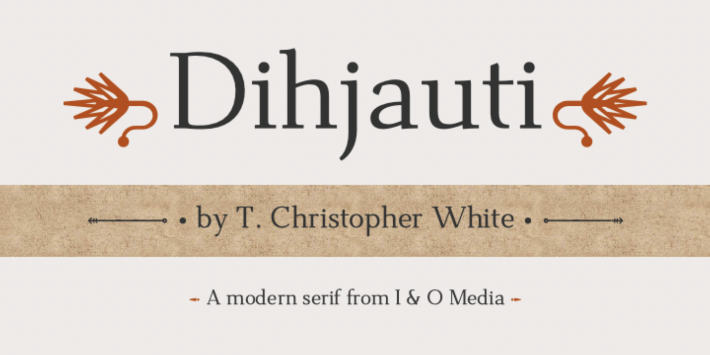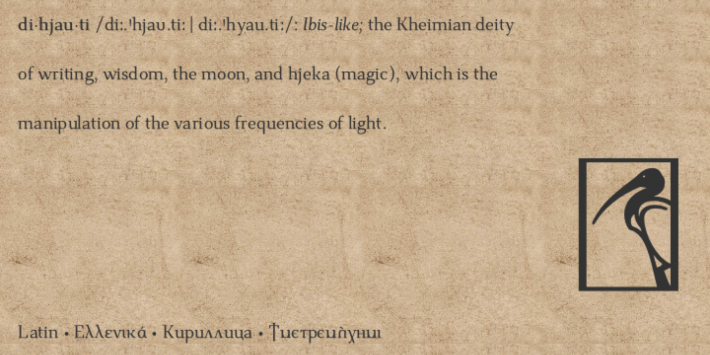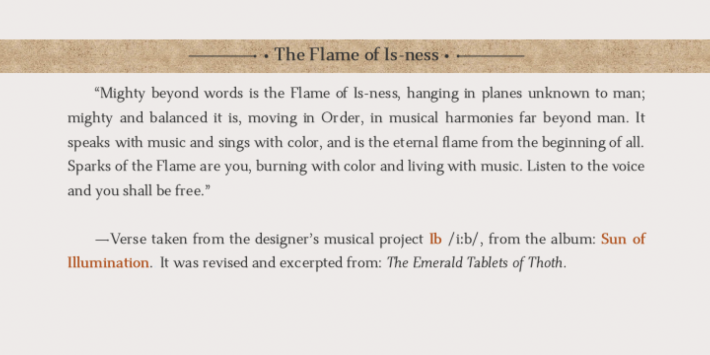 SIL Open Font License v1.10
This license can also be found at this permalink: https://www.fontsquirrel.com/license/dihjauti
Copyright (c) 04 February 2022, T. Christopher White (amenemsu@gmail.com),
with Reserved Font Names Dihjauti and Dihjauti S.
This Font Software is licensed under the SIL Open Font License, Version 1.1.
This license is copied below, and is also available with a FAQ at: http://scripts.sil.org/OFL
—————————————————————————————-
SIL OPEN FONT LICENSE Version 1.1 - 26 February 2007
—————————————————————————————-
PREAMBLE
The goals of the Open Font License (OFL) are to stimulate worldwide development of collaborative font projects, to support the font creation efforts of academic and linguistic communities, and to provide a free and open framework in which fonts may be shared and improved in partnership with others.
The OFL allows the licensed fonts to be used, studied, modified and redistributed freely as long as they are not sold by themselves. The fonts, including any derivative works, can be bundled, embedded, redistributed and/or sold with any software provided that any reserved names are not used by derivative works. The fonts and derivatives, however, cannot be released under any other type of license. The requirement for fonts to remain under this license does not apply to any document created using the fonts or their derivatives.
DEFINITIONS
"Font Software" refers to the set of files released by the Copyright Holder(s) under this license and clearly marked as such. This may include source files, build scripts and documentation.
"Reserved Font Name" refers to any names specified as such after the copyright statement(s).
"Original Version" refers to the collection of Font Software components as distributed by the Copyright Holder(s).
"Modified Version" refers to any derivative made by adding to, deleting, or substituting—in part or in whole—any of the components of the Original Version, by changing formats or by porting the Font Software to a new environment.
"Author" refers to any designer, engineer, programmer, technical writer or other person who contributed to the Font Software.
PERMISSION & CONDITIONS
Permission is hereby granted, free of charge, to any person obtaining a copy of the Font Software, to use, study, copy, merge, embed, modify, redistribute, and sell modified and unmodified copies of the Font Software, subject to the following conditions:
1) Neither the Font Software nor any of its individual components, in Original or Modified Versions, may be sold by itself.
2) Original or Modified Versions of the Font Software may be bundled, redistributed and/or sold with any software, provided that each copy contains the above copyright notice and this license. These can be included either as stand-alone text files, human-readable headers or in the appropriate machine-readable metadata fields within text or binary files as long as those fields can be easily viewed by the user.
3) No Modified Version of the Font Software may use the Reserved Font Name(s) unless explicit written permission is granted by the corresponding Copyright Holder. This restriction only applies to the primary font name as presented to the users.
4) The name(s) of the Copyright Holder(s) or the Author(s) of the Font Software shall not be used to promote, endorse or advertise any Modified Version, except to acknowledge the contribution(s) of the Copyright Holder(s) and the Author(s) or with their explicit written permission.
5) The Font Software, modified or unmodified, in part or in whole, must be distributed entirely under this license, and must not be distributed under any other license. The requirement for fonts to remain under this license does not apply to any document created using the Font Software.
TERMINATION
This license becomes null and void if any of the above conditions are not met.
DISCLAIMER
THE FONT SOFTWARE IS PROVIDED "AS IS", WITHOUT WARRANTY OF ANY KIND, EXPRESS OR IMPLIED, INCLUDING BUT NOT LIMITED TO ANY WARRANTIES OF MERCHANTABILITY, FITNESS FOR A PARTICULAR PURPOSE AND NONINFRINGEMENT OF COPYRIGHT, PATENT, TRADEMARK, OR OTHER RIGHT. IN NO EVENT SHALL THE COPYRIGHT HOLDER BE LIABLE FOR ANY CLAIM, DAMAGES OR OTHER LIABILITY, INCLUDING ANY GENERAL, SPECIAL, INDIRECT, INCIDENTAL, OR CONSEQUENTIAL DAMAGES, WHETHER IN AN ACTION OF CONTRACT, TORT OR OTHERWISE, ARISING FROM, OUT OF THE USE OR INABILITY TO USE THE FONT SOFTWARE OR FROM OTHER DEALINGS IN THE FONT SOFTWARE.
Fonts

Dihjauti Regular | 5771 Glyphs

Dihjauti Italic | 3615 Glyphs

Dihjauti Bold | 4190 Glyphs

Dihjauti Bold Italic | 3571 Glyphs

Dihjauti S Regular | 5771 Glyphs

Dihjauti S Italic | 3615 Glyphs
Dihjauti S Bold | 4190 Glyphs

Dihjauti S Bold Italic | 3571 Glyphs
Gallery
Font Information
Dihjauti /di:.'hjau.ti: | dee.'hyow.tee/, is predominantly based off Dwiggin's Electra with shades of Baskerville and Perpetua. It is modern and stately, and like its inspirers, it has broad counters and spacing, which temper it and give it warmth, making it comfortable and well-suited for longer texts. It is balanced in all aspects, from its punctuation to its reference marks and symbols. Its design takes into consideration all extra characters for languages that few fonts support, such as African and First Nation. These extra characters, such as Edh, Esh, Gamma, Ezh, Yogh, the pharyngeal fricatives, the click consonants (which have added capital versions), the glottal stops, et cetera, actually look like they belong, as opposed to being afterthoughts. The italic incorporates a touch of Arrighi. It includes all transcription systems relevant to the Latin, Cyrillic, and Greek alphabets, as well as standard Coptic, plus extra characters for Teuthonista and First Nation. It also includes, to list a few, Egyptian-styled pictographs (where applicable), APL, a plethora of mathematical symbols and arrows, and a number of alternatives in the PUA.
This is the updated and redrawn version of Dehuti/Dehjuti. After using the font on my kindle, I slowly began adjusting its design, spacing, and kerning, making it even more like Electra, but now with hints of Baskerville, as I realized that I wanted it to be more rounded. The italics, as a result, and which I had always had issues with design-wise, thus became Scotch-styled. Dihjauti S, which stands for Scotch, reflects that influence in the capital Qs.
Notes: 1) The superscript characters, modifier letters, and the numerators, are all part of the superscript table. 2) The bold versions of the font have some alternative/reversed characters; I did this because there is no difference in the math or punctuation symbols, i.e., the bold versions are not actually bold (with exceptions), which gives the font a better harmony. 3) The font uses anchors, which means that it will not align properly for linguistic use, or otherwise, without opentype. 4) For those interested, Open or Libre Office can access all glyphs using: Insert > Special Character.
Dihjauti includes:
• Latin, Greek, Coptic, and Cyrillic
• Redesigned click consonants that have accompanying uppercase versions in the PUA
• Redesigned edh, Esh, Ezhes, and Yoghs
• Extended punctuation. For the uppercase middle dot, use (2E31). I placed the Teuthonista double bar on (2E3F). For those unfamiliar with the "reversed" question mark (2E2E), it is used for ironic or sarcastic statements. My design combines the two most popular forms for this glyph into one.
• All relevant (language specific) currency symbols, including the newest additions, such as bitcoin
• Fractions, as well as most math symbols, arrows (with horizontal extenders in the PUA), geometric shapes, and pictographs, with some alternative/reversed designs in the bold versions
• Latin superscript (includes modifier letters and numerators), subscript, and denominators, which are ordered as listed
• Old style numbers, which are followed by the tabular styles of both
• Redesigned short a (turned v), small capital r, and turned w and y, which better reflect their pronunciations; these characters are used predominantly with First Nation languages.
• Redesigned velar, palatal and retroflex characters; I included these if anyone may wish to use them, though they are, with a few exceptions, deprecated.
• Redesigned glottal stops. Their new design resembles curved 7s, which is preferred in the languages that use them. They are (0241 & 0242), and (01B8 & 01B9) for the voiced pharyngeal fricatives, i.e., the reversed Ezhes, which originally represented these sounds anyway.
• IPA, NAPA, UPA, & Teuthonista (Combining Diacritical Marks Extended, Latin Extended-E, plus extras in the PUA [E6C4 - E6D5]); now with Latin Extended-F & -G.
• SIL additions: 1) Modifier letter small capital barred u (F1CD); 2) Nine-step tone markers for African orthographies (F1F1 - F1F9); 3) Retroflex D with hook (F20D), counterpart to (1D91); and, 4) a & A for Kaolib (F247 & F248).
• Small mathematical operators that correlate with vector or cross product (2A2F), plus fullwidth mathematical operators that correlate with multiplication X (2715). Now included are the remainder of the heavy versions accompanying the cross mark, or times (274C): plus, minus, division (2795 - 2797), and equals (1F7F0).
• Medieval, extra script, fraktur and double-struck letters, as well as raised MC, MD, MR, and more pictographs.
• A multitude of alternatives in the PUA, most with opentype extensions