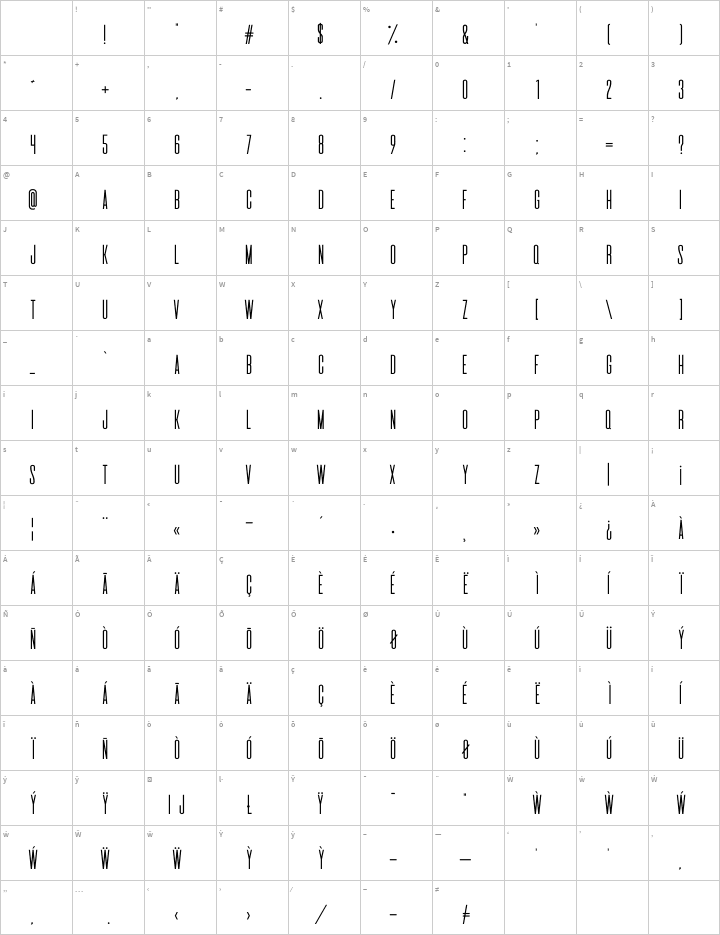 De Valencia v1.00
This license can also be found at this permalink: https://www.fontsquirrel.com/license/de-valencia
Feel free to use this typeface in personal and commercial projects.
It would be amazing to see what you do with this typeface. Share it with us using #DeValencia on social media.
If you need more info, feedback or anything please contact us: info@bybrada.com
All rights are retained by Manuel Fernández del Campo García in representation of Brada.
---
Notes from Fontsquirrel about the heritage of this font:
Webfont Kit
This font's license appears to allow you to use @font-face css embedding!
Fonts

De Valencia Regular | 186 Glyphs
Font Information
De Valencia is a monospaced display typeface with a subtle, elegant and minimalist character, created especially for the Mexican short film "A solas".
We need to create a typeface that work as the main logo of the film, but at the same time it could be applied to credits. For this reason the typeface has an extremely large kerning, designed for display use, but if we reduce it we have a tall and thin typeface perfect to optimize space when is used it in the credits of the film poster.
Its modern and fresh look and feel makes it perfect for titles, posters, editorial and even logotypes. His kerning makes it great for titles and overlapping phrases in photos.
—
De Valencia es una tipografía display monoespaciada con carácter sutil, elegante y minimalista,creada especialmente para el cortometraje mexicano «A solas».
Se necesitaba una tipografía que funcionara como logotipo principal del film y al mismo tiempo pudiera ser aplicada a los créditos. Por esta razón la fuente tiene un interletrado sumamente amplio, pensando en su uso display, pero al reducirlo tenemos una fuente alta y delgada perfecta para optimizar espacio al emplearla en los créditos del póster del film.
Su look and feel moderno y fresco la hace perfecta para títulos, pósters, editorial y hasta logotipos. Su amplio interletrado la hace estupenda para títulos y frases superpuestas en fotos ya que no invade de manera excesiva el fondo.