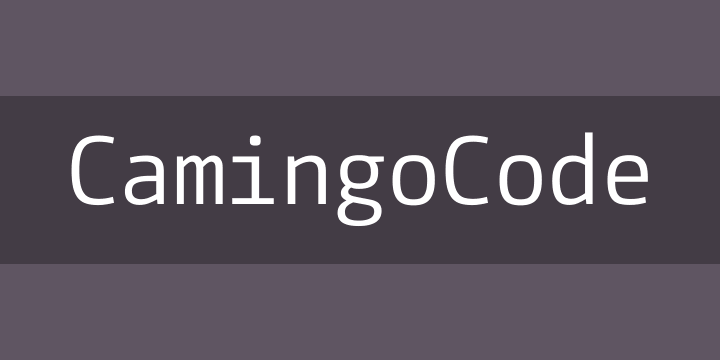 Creative Commons Attribution-No Derivative Works v3.00
This license can also be found at this permalink: https://www.fontsquirrel.com/license/camingocode
Creative Commons Attribution-No Derivative Works 3.0 Unported
(http://creativecommons.org/licenses/by-nd/3.0/)
You are free:
to Share — to copy, distribute and transmit the work
Under the following conditions:
Attribution. You must attribute the work in the manner specified by the author or licensor (but not in any way that suggests that they endorse you or your use of the work).
No Derivative Works. You may not alter, transform, or build upon this work.
For any reuse or distribution, you must make clear to others the license terms of this work. The best way to do this is with a link to this web page.
Any of the above conditions can be waived if you get permission from the copyright holder.
Nothing in this license impairs or restricts the author's moral rights.
---
Notes from Fontsquirrel about the heritage of this font:
Webfont Kit
This font's license appears to allow you to use @font-face css embedding!
Fonts

CamingoCode Regular | 476 Glyphs
CamingoCode Italic | 477 Glyphs

CamingoCode Bold | 476 Glyphs

CamingoCode Bold Italic | 477 Glyphs
Font Information
CamingoCode is designed for source-code editors. It is based on CamingoMono, but has several specially drawn glyphs that work well at small sizes, including Q, l, &, *, ~ and #. The stroke weights are relatively light, which makes CamingoCode suitable for both bright and dark visual themes. The family consists of four style-linked fonts (Regular, Italic, Bold and Bold Italic) and is manually hinted to give the best possible appearance on screens.