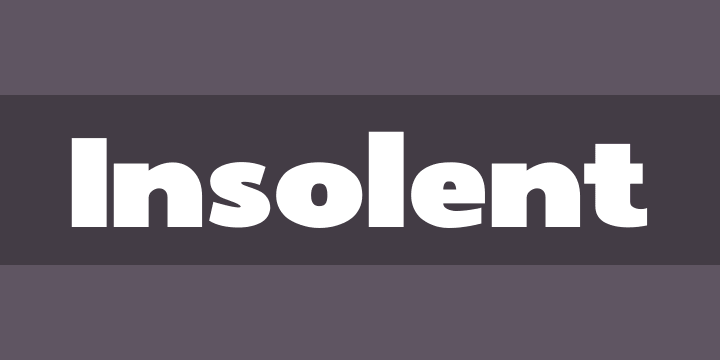 Haiku Monkey Font License Agreement v1.00
This license can also be found at this permalink: https://www.fontsquirrel.com/license/Insolent
By using or installing this font data, you (or you on behalf of your employer) agree to be bound by the terms of this Agreement. This Agreement constitutes the complete agreement between you and Alec Julien dba Haiku Monkey Media.
Installation and Use: In consideration for the license fee paid, Haiku Monkey grants to you only, the Licensee, the non-exclusive, nontransferable right to use and display the font. If you are using this product for your work, this agreement applies to your employer. Haiku Monkey fonts may be used on up to a maximum number of CPUs equal to the number of users specified in the applicable receipt. You may make two (2) copies of the font SOLELY FOR BACKUP PURPOSES. You may use the font for every kind of commercial and/or independent publication, electronic and/or print.
Service Bureaus: You may send a copy of any Haiku Monkey Foundry font along with your documents to a commercial printer or other service bureau to enable the editing or printing of your document, provided that such party agrees to delete the font or fonts from his/her/their system upon completion of your project.
Portable Documents: You may embed this font within PostScript files or PDF files for distribution, viewing, and imaging to third parties.
Restrictions: You may not modify, adapt, translate, reverse engineer, decompile, disassemble or create derivative works based on this font without the author's prior written consent.
Copyright: This font is copyrighted; unauthorized copying of the font is expressly forbidden. You may be held legally responsible for any infringement of intellectual property rights that is caused or encouraged by your failure to abide by the terms of this Agreement. Additionally, Haiku Monkey Foundry reserves all rights not specifically granted to Licensee.
Termination: This Agreement will immediately and automatically terminate without notice if you fail to comply with any term or condition of this Agreement. If this Agreement is terminated, you agreed to destroy all copies of the font data in your possession.
NO WARRANTIES
Haiku Monkey Media expressly disclaims any warranty for the font. The font and any related documentation is provided "as is" without warranty of any kind, either express or implied, including, without limitation, the implied warranties or merchantability, fitness for a particular purpose, or noninfringement. The entire risk arising out of use or performance of the font remains with you.
NO LIABILITY FOR CONSEQUENTIAL DAMAGES
In no event shall Haiku Monkey Foundry be liable for any damages whatsoever (including, without limitation, damages for loss of business profits, business interruption, loss of business information, or any other pecuniary loss) arising out of the use of or inability to use this product, even if Haiku Monkey has been advised of the possibility of such damages.
Fonts

Insolent Regular | 638 Glyphs

Insolent Italic | 638 Glyphs
Font Information