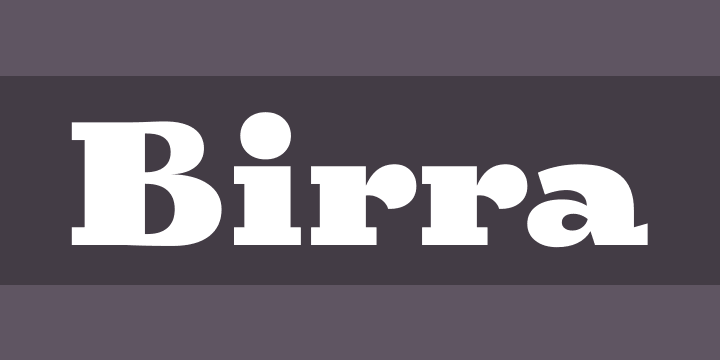 Darden Studio License v1.00
This license can also be found at this permalink: https://www.fontsquirrel.com/license/Birra
Joshua Darden Shop End User License Agreement
1. License
a. The end user license agreement ("License") granted hereunder shall terminate immediately if you ("Licensee") violate any of the provisions contained herein.
b. The License granted hereunder is subject to change without notice. The most recent version of the License may be obtained by writing to Joshua Darden Shop or by visiting the Internet address at http://www.joshuadarden.com/eula/ .
c. Joshua Darden Shop grants the non-transferable, limited, and non-exclusive right to install, use, reproduce, and display the font(s) ("Font Software") in the advertising, promotion, and furtherance of Licensee?s business. Licensee shall be permitted to install the Font Software on the number of computers noted above if, and only if, it implements security precautions as set forth in subsections (1e), (1f), (1g), and (1h).
d. If Licensee shall fail to comply with the material terms and conditions of this Agreement, Joshua Darden Shop may give Licensee written notice of such failure. Licensee shall have fifteen (15) days after the receipt of such notice to cure such failure. If such failure is not cured within that period, this Agreement may be terminated, without further delay, by Joshua Darden Shop sending written notice to Licensee. No fees shall be refundable to Licensee upon termination. Upon termination of this Agreement, Licensee shall, at its option, either return to Joshua Darden Shop or destroy the Font Software and all copies thereof, in part or in whole, and in all forms of media. If destroyed, Licensee shall promptly submit an affidavit signed by an officer of Licensee, which attests to the destruction of Font Software by Licensee.
e. The Font Software may be used by Licensee?s authorized service bureaus or printers, provided that Licensee ensures that said service bureaus or printers agree to delete or return the Font Software at the conclusion of rendering services to Licensee.
f. Licensee may embed the fonts in electronic documents provided to Licensee?s authorized service bureaus or printers, provided that Licensee ensures that said service bureaus or printers agree to delete or return the electronic documents at the conclusion of rendering services to Licensee.
g. Licensee shall be permitted to use the Font Software in internet pages and in electronic documents distributed to the general public if, and only if, Licensee ensures that recipients cannot extract the Font Software or otherwise use it for the editing or creation of new content.
h. Any distribution of the Font Software in internet pages or in electronic documents to the general public not specifically covered in subsections (1d), (1e), (1f), and (1g) shall require a separate license.
i. Licensee agrees not to decompile, reverse engineer, disassemble, adapt, modify, in whole or in part, the Font Software.
j. Licensee shall not distribute, transmit, lease, loan, sell, or sub-license, in whole or in part, the Font Software, to any third party, subsidiary, affiliate, assignee, customer, or agent, except as provided in subsections (1e), (1f), and (1g). Licensee shall implement strict security precautions, protocols, and protective measures to prevent the unauthorized use, distribution, duplication, transmission, or dissemination of the Font Software.
k. Joshua Darden Shop shall retain any and all right, title and interest (including copyright, patent, trademark, and other proprietary or intellectual property rights) in the Font Software, all legally protectable elements or derivative works thereto, whether or not paid for wholly or in part by Licensee, whether or not developed in conjunction with Licensee, and whether or not developed by Joshua Darden Shop, Licensee or any contractor, subcontractor or agent for Joshua Darden Shop or Licensee. Licensee shall only be entitled to a license as set forth in paragraph 1c and nothing contained in this Agreement shall be construed as transferring any other rights to Licensee.
2. Disclaimer
a. Joshua Darden Shop disclaims and makes no other warranties, express or implied, including, without limitation, any implied warranties of merchantability, fitness for a particular purpose, and/or non-infringement of a third party?s intellectual party?s rights, concerning the subject matter of this agreement. Joshua Darden Shop does not warrant that the font and font software will operate uninterrupted, error-free, or without defects.
b. In no event shall Joshua Darden Shop be liable to Licensee or any other person for any indirect, incidental, consequential or punitive damages, including loss of profit or goodwill, for any matter arising out of or relating to this agreement and/or its subject matter, whether such liability is asserted on the basis of contract, tort or otherwise even if Joshua Darden Shop has been advised of the possibility of such damages. Joshua Darden Shop?s total liability for damages shall be limited to the total fees paid by Licensee to Joshua Darden Shop hereunder.
c. The parties acknowledge that Joshua Darden Shop has set his prices and entered into this agreement in reliance upon the limitations of liability and the disclaimers of warranties and damages as set forth herein, and that the same form an essential basis of the bargain between the parties. The parties agree that the limitation and exclusions of liability and disclaimers specified in this agreement will survive and apply even if found to have failed of their essential purpose.
3. General
a. Independent Contractors. The parties and their respective personnel, are and shall be independent contractors and neither party by virtue of this Agreement shall have any right, power or authority to act or create any obligation, express or implied, on behalf of the other party.
b. Assignment. Neither party may assign its rights, duties, or obligations under this Agreement to any other person or entity, in whole or in part, without the prior express written consent of the other.
c. Waiver. No waiver of any provision hereof or of any right or remedy hereunder shall be effective unless in writing and signed by the party against whom such waiver is sought to be enforced. No delay in exercising, no course of dealing with respect to, or no partial exercise of any right or remedy hereunder shall constitute a waiver or relinquishment of any other right or remedy, or future exercise thereof.
d. Severability. If any provision of this Agreement is determined to be invalid under any applicable statute or rule of law, it is to that extent to be deemed omitted, and the balance of the Agreement shall remain enforceable to the fullest extent permitted by law.
e. Notice. All notices shall be in writing and shall be deemed to be delivered when received by electronic mail, certified mail, postage prepaid, return receipt requested or by a nationally known overnight mailing service. All notices shall be directed to the parties at the respective addresses given above or to such other address as either party may, from time-to-time, designate by notice to the other party.
f. Amendment. No amendment, change, waiver, or discharge hereof shall be valid unless in writing and signed by both parties.
g. Governing Law and Forum. This Agreement shall be governed by, construed, and interpreted in accordance with the laws of the State of New York, excluding its rules governing conflicts-of-law. Both parties hereby agree to the jurisdiction and forum of the State and City of New York and waive any objection based upon forum non conveniens with respect to any action instituted hereunder.
h. Entire Agreement. This Agreement constitutes the complete and exclusive statement of all mutual understandings between the parties with respect to the subject matter hereof, superseding all prior or contemporaneous proposals, communications and understandings, oral or written.
i. Headings and Order. The headings and sequential order of the sections contained in this Agreement are for convenience or reference only and shall have no substantive or procedural effects in construing the provisions of this Agreement.
Fonts

Birra Stout | 387 Glyphs
Font Information
Registration is required to download.